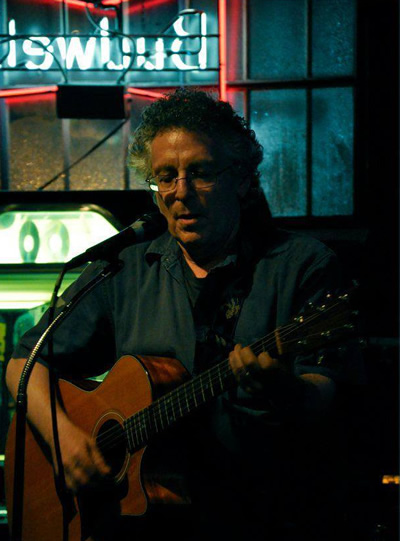 JOSH SCHURMAN has been a singer-guitarist for over fifty years. He has performed in coffeehouses, clubs, and concerts throughout New England, the Midwest, and on the West Coast, pleasing audiences with his gritty and soulful vocals and deft fingerstyle guitar playing. He draws on American country blues and folk traditions, which he has been mining since the early sixties, and is influenced by roots artists such as Robert Johnson, Mississippi John Hurt, Hank Williams, and popular icons of the sixties folk revival. His interest in folk and traditional music deepened during his time at The Folklore Institute of Indiana University.
In his solo career, Josh has shared the stage with many well known performers, and has opened for such notables as Jim Kewskin, Geoff Muldaur, NRBQ, and guitarist, Peppino D'Agostino.  He has played in numerous groups, and was a founding member of the popular Rhode Island roots-rock band, BISCUIT CITY, for ten years before leaving the band in 2019 to pursue other projects.
His currently plays solo shows and also  in the popular acoustic trio, GREYHOUND DREAM, which has  garnered praise for its eclectic repertoire and unique interpretations of folk, blues and country standards, as well as pop classics.
He can be heard on the soundtrack of "Woven in Time," a documentary directed and produced by filmmaker Marc Levitt.
Josh has recorded two CDs of original songs, his  2017 CD  entitled "ONLY WHEN I LAUGH" and he has just released his  2nd CD (released 8/1/20)  entitled "ONE MORE DAY" . Both CDs are available for purchase, download and streaming at Bandcamp.com. They are also available at Amazon, Itunes, Spotify and most popular vendors.
They can also be purchased directly from Josh at :
  Josh Schurman, P.O. Box 1565, Kingston, RI  02881. "ONE MORE DAY "  is $15.00 (includes shipping) and "ONLY WHEN I LAUGH" is $13.00.  You can order both CDs for $23.00. Please specify which CD you are ordering. Payment can be made by check or Paypal (pay to : [email protected])
To hear samples of ONE MORE DAY hit the link below
                                           https://joshschurman.hearnow.com/